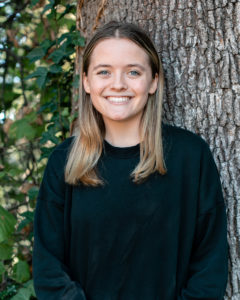 Rylee
Nordby
Assistant
Rylee was born and raised in Oregon, graduating from Gladstone High School. She lives with her family in Gladstone and has two older sisters, which are her best friends. She enjoys spending time with her family adventuring, camping or just staying in for a movie night. She attends school at Clackamas Community College and is pursuing a degree in Elementary Education. Rylee has an immense amount of patience and love for children. She is excited and grateful to be a part of Skopos this year.
Noelle
Walmer
Assistant
Noelle was born in Oregon and lives with her family in the rural Clackamas area. She was home educated, along with her two brothers and participated in co-op groups. She took science labs at Clackamas Community College. She enjoys working at camp, theater and art. One of Noelle's favorite things to do is read, and she enjoys a large variety.
Sydney
Dunkle
Lunch Coordinator
Sydney was born and raised in Oregon, graduating from West Linn High School. She has worked with children for over 15 years in children's ministry and in her own daycare business. She has been married for 6 years and has 5 children. She and her family attend Athey Creek Fellowship.
Kaitlyn
Boyle
1st/2nd Grade Teacher
Ms. Boyle "graduated" from assistant in the 1st/2nd grade classroom to Teacher of first and second graders. Her prior experience included tutoring young children and helping students achieve their academic goals in fun and creative ways for 6 years. Academically, Miss Boyle is completing a Bachelor's Degree in Social Sciences with a minor in Elementary Education at Portland State University. In her free time, Miss Boyle enjoys God's creation—hiking and watching sunrises and sunsets. "I look forward to sharing my love for God and working alongside Skopos Christian School students, staff, and families," said Miss "B."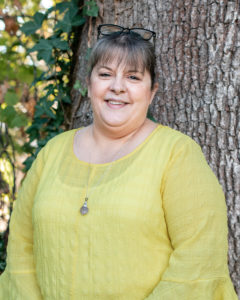 Shirley
Ferdinand
4th grade teacher
She was born in Silverton, Oregon and raised in Milwaukie. She graduated from Rex Putnam High School. She is a wife of 32 years, mother of 2 children, and grandmother to 4 amazing kiddos. She has been in the education field, in one form or another, for over 15 years. She enjoys teaching and watching the minds of the kiddos flourish and grow. She loves the Oregon Coast and goes there as often as she can. Depoe Bay is a favorite spot, and she loves to watch the Spouting Horn and eat at Gracie's Sea Hag. She enjoys BBQ's and game time with family and friends.
Mike
Ferdinand
4th-8th Grade History/Science/Health Teacher & 7th/8th Grade Bible Teacher
Mike was born in California but has spent most of his life in Oregon. He served in the military, worked in youth ministry, led Bible studies, and foster-parented for 5 years. Mike and Shirley, married since 1987, have two grown children and six "beautiful" grandchildren. "I have a heart for youth and look forward to working with your children at Skopos Christian School," said Mr. Ferdinand.
Philip
Pfaltzgraff
Philip lives with his wife in Oregon City, and has had an extensive career as a school music teacher, church musician and former pastor. Phil is an Iowa native who graduated from Westmar College (formerly in LeMars, IA). Before retiring, Phil was the staff accompanist at Wayne State College (Wayne, NE) and the pastor of a local Assembly of God Church. Phil also works in the Metro area as a freelance accompanist for school concerts and musicals, as well as a piano soloist and substitute church keyboard musician. For the past 13 summers, Phil has served at the Cedar Falls Bible Conference as one of the Conference musicians. He and his wife Sherry have one married son who lives in Canby with his wife and their two sons.
Victoria
Loveland
Preschool Assistant
Victoria describes herself as a "kid at heart." She still enjoys youthful games, such as Pokémon Go. Before joining the Skopos Christian School staff as Preschool Assistant, she worked in childcare for 9 years. Not venturing far from her childhood home to Skopos Christian School, Miss Loveland was saved and baptized at Wichita Evangelical Church in Milwaukie. Miss Loveland testifies, "I have always had a strong relationship with the Lord. I talk with Him every day." During non-school hours, Miss Loveland enjoys listening to podcasts and watching Anime (Japanese Cartoons). She works out regularly, including walking and bicycle riding. Miss Loveland feels privileged to work with little ones at Skopos.
Shaelynne
Wachlin
Director | Instructor
Skopos Christian School is under the leadership of multi-talented, energetic "born teacher" Mrs. Shaelynne Wachlin. She taught middle and upper grades for 13 years at a small Christian school. Mrs. Wachlin was a nominee for the 2017 OnPoint Excellence in Education Award. Administrators, teachers and parents praised Mrs. Wachlin. "No teacher, I am confident, is as creative and resourceful and successful on a very, very modest budget as Shaelynne Wachlin in Gladstone, Oregon," observed a university education professor. "Her successful teaching is jubilant and frankly sacrificial." A colleague said, "I have had the pleasure of working with Shaelynne for six years. Throughout that time, Shaelynne has exemplified professionalism, excellence in education, and love for her students…. No matter how much a student may struggle behaviorally or academically, Shaelynne finds a positive aspect of that child and nurtures it. Her attention to detail and unwavering commitment to belief in her students have led to consistently high test scores and leaps forward in academic growth." Over the years, defiant, argumentative, uncooperative, disrespectful students were occasionally transferred from public schools into Mrs. Wachlin's class, mid-year. Within four months, one such student was a new person, noticed his parents, friends, and coaches. At year's end, he was a model student. Mrs. Wachlin, who was teaching a split fifth-sixth grade class, had this "model student" for a second year. He continued his amazing progress, finishing the school year with A's. His parents called Mrs. Wachlin a "miracle worker." At Portland Community College, Mrs. Wachlin earned three Associates Degrees, in Science, Arts and General Studies. At Western Oregon University, she majored in Elementary Education and minored in American Sign Language. Her passion includes the mission field, participating in eight mission trips to Guatemala and in 27 mission trips to Mexico. She brings mission projects to the classroom as well as to the school.Mrs. Wachlin pours her heart and soul into each of her students, showing them the love of Jesus each day. Mrs. Wachlin and husband Jed, a retired Clackamas Fire District lieutenant, have been married 29 years. They have three children: Brinsley, 27; Gabrielle, 25; and Josiah,22. The Wachlin family worships at Athey Creek Church.
TIA
LOVELAND
Preschool Teacher
Tia brings three years of previous preschool experience, plus parenting and grandparenting skills, to her position as Preschool Teacher at Skopos Christian School. Mrs. Loveland and her husband Joseph, married since 1986, have four grown children and one "amazing" grandson. Mrs. Loveland assists with Joseph's construction business. She was born and raised in Texas. However, as the child of a military father, she lived in many different places. A favorite was the Philippines, where her family lived for three years. Relocation experiences as a child helped Mrs. Loveland to learn and to grow and to adapt to new schools and new people. "I know firsthand how important the first learning environments are. As one of your child's first teachers in life, I pray that Skopos Preschool will be a fun, positive experience and that your child will develop a love for school," said Mrs. Loveland. "I look forward to getting to know each precious child and each parent. My goal is to cultivate a lifelong love of learning in my students."
Heidi
Koch
Kindergarten Teacher/Administrative Assistant
Mrs. Heidi brings over a decade of instructional experience to Skopos Christian. She worked at a local Christian school for nine years in a variety of capacities: preschool assistant, teacher assistant, recess monitor, and lunch program coordinator. She was also the educational coordinator at Children's World Learning Center for 5 years. Mrs. Heidi is a native of Portland, Oregon, graduating from Rex Putnam High School. She and her husband Bruce have been married for 20 years. They have two beautiful daughters. The Koch family helped start a church plant called The Hub NW. They meet in person and broadcast on Facebook live. In doing so, they have reached people all across the U.S. and even have a few watching from Jamaica. They are truly blessed by all that God is doing in their lives. The Koch family motto is JOY-Jesus, Others, You.